In Space
Sector

Pierides

Grid coordinates

0200

Physical
Class

Tech Level 4. </br> Baseline postech.

Atmosphere

Breathable mix

Climate

Temperate

Primary biosphere

Human-miscible biosphere

Societal
Population

315,000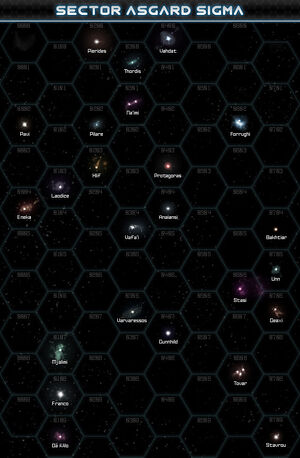 Alexopoulous
is an inhabited planet in the Pierides system. It is home to a sentient population of an estimated 315,000.The planet features a breathable atmosphere and a temperate climate.Fresh water occurs naturally on Alexopoulous, allowing for easy colonization and extensive agriculture.
Technology: Technology on Alexopoulous is relatively advanced for the sector, featuring baseline postech up to Tech Level 4.
A large scale reformation changed this planet when the Freedom Front rose too the top of the political list over. This party rose for a major reason they introduced a new religion from a neighboring system that spoke to the people. The religion was named "The book of Wran". This religion reformed this democratic government into a patriarchy were the All mother leads her people to true enlightenment through Power and love of the god Judar wran. Many people of the planet still have doubt as too the All mothers plan but the conversion of the people to zealots and Templars if the wran faith that almost all members of the military have converted to the new faith leaving little room for rebellion.