Anaximander
In Space
System

Anaiansi

Grid coordinates

0404

Physical
Class

Tech level 4.
Baseline postech.

Atmosphere

Breathable mix

Climate

Warm

Primary biosphere

Immiscible Biosphere

Societal
Population

765,000

Demonym

Anaximandan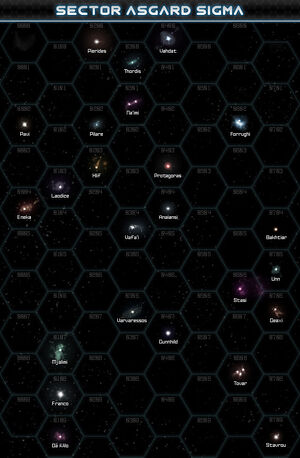 Anaximander is an inhabited planet in the Anaiansi System, known mostly for the University of Anaximander found in orbit and its founder Ramirez al-Mualim, the creator of the first Postech spike drive. The planet has a slightly above average global temperature and is quite well developed, supporting a population of 765,000 comfortably.
The higher than normal temperatures have resulted in large parts of the equatorial regions being covered in deserts, it is for this reason that much of the planet was used for the dumping ground of old ships pre-Scream. It was these wrecks that Ramirez al-Mualim played in as a child and was inspired by to go on and become the great astronautical engineer he was when he founded his university.