Asa
In Space
System

Bakhtiar

Grid coordinates

0704

Physical
Class

Tech Level 4.
Baseline postech.

Diameter

9,617 km

Atmosphere

Invasive, toxic atmospere

Climate

Temperate

Gravity

Moderate (0.91g)

Primary biosphere

Immiscible biosphere

Societal
Government

Feudal Monarchy

Population

64,200

Demonym

Asan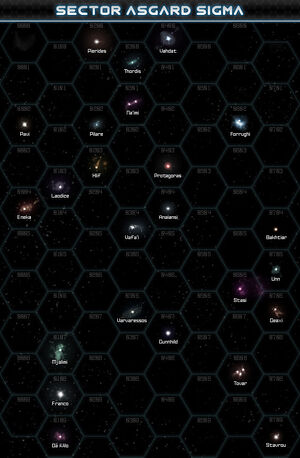 Asa is an inhabited planet in the Bakhtiar System. Despite its toxic atmosphere and the fact that much of its surface is covered in water, the planet is home to an estimated several tens of thousands of inhabitants. Asa is technologically relatively advanced, featuring baseline postech up to Tech Level 4. Even though relatively sparsely populated, Asa is one of the foremost industrial centres in Asgard Sigma due to housing the headquarters of Sunbeam Omnistellar's corporate empire and as such Sunbeam's shipyards can be found in Asa's orbit.