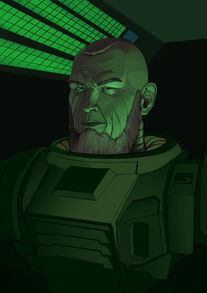 A infamous bounty hunter who is attempting to turn in both of the bounties that Lord Lucas McCrary and Lord Laura McCrary have placed on each other in "I'm Your Number One Fang". In "You Don't Need a Doctor, Son...", the Crew attempts to trick him into accepting a "sedated" Mr Sicarian, for the large bounty Pfotenhauer Society has on him. He leaves after not believing a lie from Wilbur Higgins III.
Indicdents

Shot with a sand-thrower by Higgins, does not seem to hold it against him.
Ad blocker interference detected!
Wikia is a free-to-use site that makes money from advertising. We have a modified experience for viewers using ad blockers

Wikia is not accessible if you've made further modifications. Remove the custom ad blocker rule(s) and the page will load as expected.