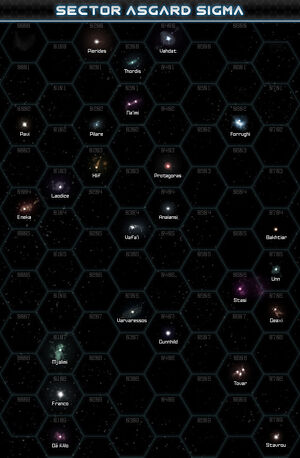 Geaxi is a planetary system in Sector Asgard Sigma, hex 0706. It is bordered by Stasi to the stellar northwest, and Unn to the north. Geaxi is home to Vinaya, and Ingigerd.
No
Planet
Notes
Moons
I
Geaxi I
II
Geaxi II
III
Geaxi III
IV
Geaxi IV
V
Geaxi V
VI
Vinaya

Atmosphere: Breathable mix

Temperature: Temperate

Population: 20 Million

VII
Geaxi VII
VIII
Geaxi VIII
IX
Geaxi IX
X
Ingigerd

Atmosphere: Corrosive

Temperature: Cold

Population: 710,000

XI
Geaxi XI
XII
Geaxi XII
Ad blocker interference detected!
Wikia is a free-to-use site that makes money from advertising. We have a modified experience for viewers using ad blockers

Wikia is not accessible if you've made further modifications. Remove the custom ad blocker rule(s) and the page will load as expected.