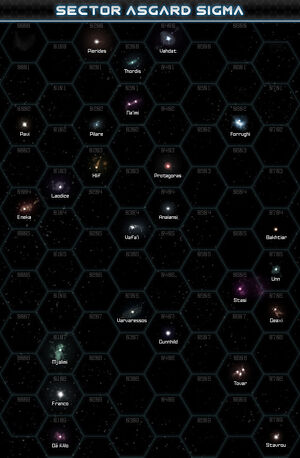 Gunnhild is a planetary system in Sector Asgard Sigma, hex 0407. It is bordered by Varvaressos System to the stellar northwest. Stasi System and Tovar System lie further away to its Northeast and Southeast respectively.
Gunnhild is home to the inhabited planet of Andoni.
The Richardson Scientific Society is based on Gunnhild VIII-C (the third moon of the seventh planet).
Ad blocker interference detected!
Wikia is a free-to-use site that makes money from advertising. We have a modified experience for viewers using ad blockers

Wikia is not accessible if you've made further modifications. Remove the custom ad blocker rule(s) and the page will load as expected.