Pelasgon
In Space
System

Na'imi

Grid coordinates

0301

Physical
Class

Tech Level 4 w/ specialties

Diameter

16,829 km

Atmosphere

Inert gases

Climate

Cold

Gravity

Moderate (0.88g)

Primary biosphere

None

Surface water

True

Societal
Primary language(s)

English, Hebrew

Population

933,000

Demonym

Pelasgonian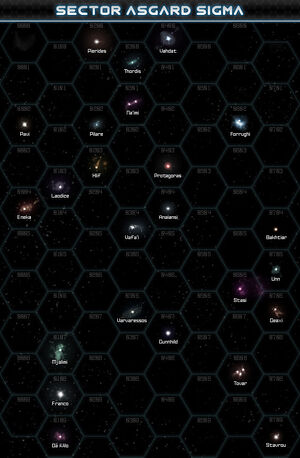 Pelasgon (Hebrew: פלו גון, Pelasgōn) is a planet in the Na'imi System. The name of the planet translates to "Blue tinted", probably referring to the pale blue tinted ice and snow that covers the planet's surface. The civilian settlements on this planet are primarily focused on research and development. The planet is also home to the interstellar mercenary group known as the Pfotenhauer Society.
Color storms
Edit
Due to the variety of inert gases in the atmosphere, primarily a mixture of argon, helium, and krypton, a common occurrence in snowstorms is a build up of static electricity causing the air to glow slightly with colors dependent on altitude. The glow usually is hard to spot except if against the black night sky, however lightning strikes are much noticeable and the color of some strikes can range from dark reds, deep violets, and bright blues.