Rucina
In Space
Sector

Anaiansi

Grid coordinates

0404

Physical
Class

Tech Level 3.
20th-century technology.

Diameter

18,512 km

Atmosphere

Airless / thin atmosphere

Climate

Cold

Gravity

High [1.59g]

Primary biosphere

Hybrid biosphere

Societal
Population

75,400

Demonym

Rucinian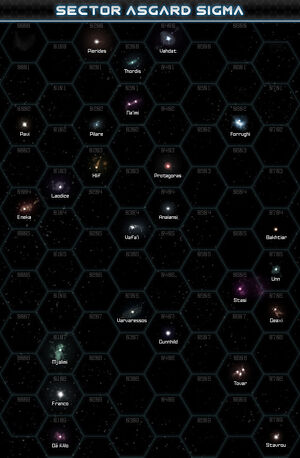 Rucina is a sparsely inhabited planet in the Anaiansi System. It's currently experiencing a nuclear ice age, though historically it's been as temperate as Anaximander. The planet is home to tens of thousands of sentients, most of which have been mutated from prolonged exposure to high doses of radiation.
Class 5B Navigation warning: Low orbit and airspace unsafe for transit. Be advised that surface to orbit defenses are live. Proceed at your own risk.
Health Hazard 4: Extreme sources of radiation found in planets' atmosphere, and surface. Closed oxygen systems and radiation suits strongly recommended. Comms systems and distress beacons unable to penetrate atmospheric radiation, limiting communications to 30km or less. Proceed at your own risk.
Ad blocker interference detected!
Wikia is a free-to-use site that makes money from advertising. We have a modified experience for viewers using ad blockers

Wikia is not accessible if you've made further modifications. Remove the custom ad blocker rule(s) and the page will load as expected.