Subhadra
In Space
System

Stavrou

Moons

1 known

Grid coordinates

0709

Physical
Class

Tech Level 2.
19th-century technology.

Diameter

17,069 km

Atmosphere

Breathable mix

Climate

Temperate

Gravity

Moderate (1.35g)

Primary biosphere

Microbial life

Societal
Population

78,800

Demonym

Subhadran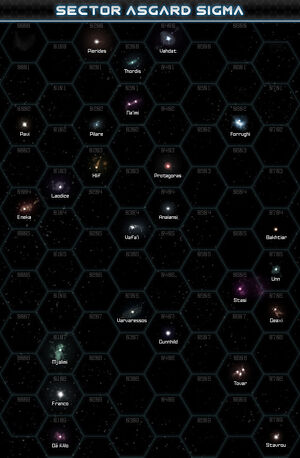 Subhadra is a relatively desolate world lightly inhabited by smugglers, researchers, and is home to the V'ad. While the surface remains a barren wasteland, the V'ad have built extensive networks underground and can sometimes be distinguished from the surface by smoke stacks due to the V'ads recent industrial revolution. Consequently, the atmosphere's developed a pinkish-orange smog layer dense enough to shroud the surface. Despite the inconveniences posed by its natives, it's quite a popular site for criminals to hide out on.
Ad blocker interference detected!
Wikia is a free-to-use site that makes money from advertising. We have a modified experience for viewers using ad blockers

Wikia is not accessible if you've made further modifications. Remove the custom ad blocker rule(s) and the page will load as expected.