In Space
System

Anaiansi

Grid coordinates

0404

Physical
Class

Tech Level 4.
Baseline postech.

Atmosphere

Breathable mix

Climate

Warm

Primary biosphere

Human-miscible

Societal
Population

504,000

Demonym

Sumatian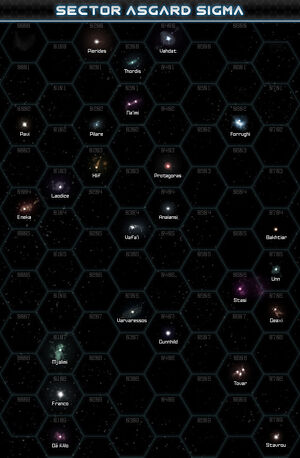 Sumati is one of the three inhabited planets in the Anaiansi System, the others being Anaximander and Rucina. Its atmosphere is a breathable mix, the temperature is rather warm, and the biosphere is a human-miscible one. There are 500,000 inhabitants on this planet, and with a Tech Level of 4, this planet is capable of sustaining baseline postech.
There is no recorded history of Sumati previous to their time with 20th century technology. However, there is currently a Xenoarchaeology purposed dig to be done there involving possible medieval tech and early 19th century tech which has not been seen there before. The head Xenoarchaeologist for this project is Julu Fix who is looking for more Xenoarchaeologists to help him in his endeavors.
Ad blocker interference detected!
Wikia is a free-to-use site that makes money from advertising. We have a modified experience for viewers using ad blockers

Wikia is not accessible if you've made further modifications. Remove the custom ad blocker rule(s) and the page will load as expected.