Thoe
In Space
System

Protagoras

Grid coordinates

0403

Physical
Class

Tech Level 3.
20th-century technology.

Diameter

4,772 km

Atmosphere

Breathable mix

Climate

Temperate

Gravity

Low (0.29g)

Primary biosphere

Microbial life

Societal
Population

99,100

Demonym

Thoesian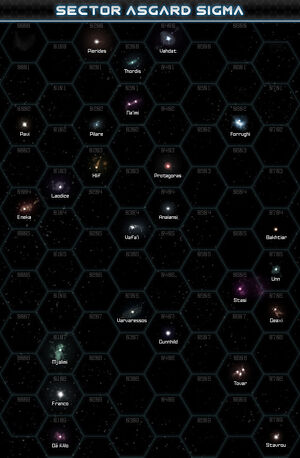 Thoe
is an inhabited moon of the jovian world Protagoras V. It's home to a small society of genetically modified humans with a distinct blue pigmentation, and lack of obvious sexual features. The inhabitants can typically found in dome cities, surrounded by large fields of solar panels. Despite their lack of post tech, Thoe's taken an active stance in advancing their knowledge of sustainable energy, as well as partnering with Richardson Scientific.
Ad blocker interference detected!
Wikia is a free-to-use site that makes money from advertising. We have a modified experience for viewers using ad blockers

Wikia is not accessible if you've made further modifications. Remove the custom ad blocker rule(s) and the page will load as expected.